Okinawa Deep-sea Smallfin Gulper Shark Liver Oil supplements

800ml bellow the sea level is the godforsaken world , where the sun ray does not reach with extreme coldness, darkness, huge high water pressure and lacks of oxygen. What a vitality that Deep sea shark (smallfin gulper shark)


has been lived without evolution since 400 milion years ago!! That seems to result from their liver functions. We succeeded in extracting functional nutrients from the livers for the food supplements by our partented production method, to treat them fresh for a short period of time


Pursuit for the freshness!!




The deep sea sharks will be treated for dissection and removal of the impurity within 8 hours since the disembarkation from the fishing boats, that makes it possible that Okinawa is a tiny island surrounded by the beautiful sea.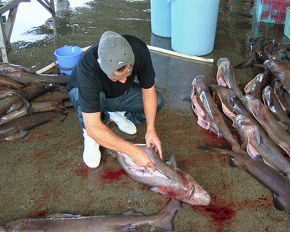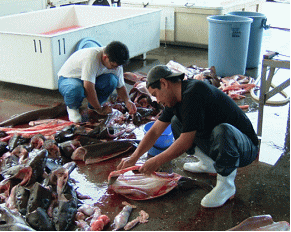 Production Method with Patent NO. 3845754
The unique method is adopted effectively to extract the natural components from the shark liver oil. Well-balanced natural components in the liver oil can be perfectly extracted without any damage to them. (Any heat treatment is not applied on the method)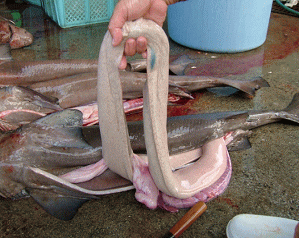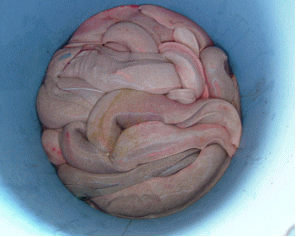 Differentiation from the other products!

The conventional products have mainly manufactured with the method of heat treatment and vacuum distillation, even with which high purified Squalene by more than 99% can be extracted. But, the most will be lipid.
Our products include Natural components of
Unsaturated fatty acid such as DHA, EPA, Vitamin A, E, Omega 3 fatty acid. Those indispensable components are stocked in deep-sea shark liver oil.
SQUALANE PRODUCTS
Squalene Capsule

1) Box

2) Bottle

3) Bag

4) Calender sheet

.Squalene improves blood circulation, provides oxygen to the tissues, revitalize cells, and works as an anti-oxidant. The natural components extracted from the species of Centrophorus granulosus, a deep sea shark of Okinawa's seas, using our technology is exclusively used as raw materials for our products, The liver oil of the deep sea shark contains squalene, unsaturated fatty acids (including DHA, EPA, viatmin A and Vitamin E), squalen and arcoxygycerol. The natural arcoxyglycerol is a special marine fatty acid which supports the production of white blood cells especially that of lymphocytes. Thus, it plays an important role in maintaining a proper function of our immune system

Please click the top picture for the specification.


Unit
Qty
Carton(mm/kg)
Unit Price
MOQ
1) 180 tbs
24
442*305*302/5.0
JPY3,280
1 carton
JPY2,970
10 cartons
2) 180 tbs
24
370*250*130/3.0
JPY3,120
1 carton
JPY2,970
10 cartons
3) 40 tbs
12
115*255*130/0.6
JPY860
1 carton
JPY820
10 cartons
4) 20 sachets
12
445*305*166/1.5
JPY1,820
1 carton
JPY1,730
10 cartons
5) 20,000 tbs
1
442*305*302/6.0
JPY300,000
1 carton
10 cartons
Squalane Oil for cosmetic

30ml (110g)


15kg steel can

The Squalane is 99.9% pure and extracted from liver oil of Aizame sharks, which inhabit non-polluted waters of Okinawa at depths between 600m and 1000m. This superior natural oil is a product of Japan. Great care is taken in its preparation to insure potency and stability. Perfect for round the clock applications softens, diminishes tiny facial lines. Heals, soothes dry, imitated skin. Creates a barrier to protect your skin against the harsh environment. Apply throughout the day to night, dry areas of the body. Also to sunburned skin. As a base it makes your moisturizer and facial treatment work more effectively. Squalane is 100% compatible with the natural oils of your body. If you desire softer, smoother, prettier skin, you'll love Okinawa Squalane!!
Click the picture of 15 steel can for the specification.


| | | | |
| --- | --- | --- | --- |
| Unit | Qty/Carton | Unit Price | Carton Info (mm/kg) |
| 30ml/bottle | 50 bottles | JPY1,500 | 300*230*166/6.5 |
| 15kg/ can | 1 steel can | JPY178,500 | 240*240*350/16.5 |
Super Chondroitin (230mg / tb x 60 tbs)

(55g/box)

This product is a chondroitin nutritional supplement to support bones and joints. Chondroitin is a driving force to sustain the coming aging society. The product contains chondroitin from the cartilage of deep sea shark of

Okinawa




Super Chondroitin tablets are free from any chemical substances including additives. The product is safe due to the process of time-taking germicidal treatment and a high quality is guaranteed.


Nutrient components per 100g
Energy: 175kcal/ water: 20g: protein: 42.1g/ lipids: 0.6g/
ash: 55.1g/ carbohydrate: 0.2g/ sodium: 801mg/


Mucopolysaccharide: 2.7g/




| | | | |
| --- | --- | --- | --- |
| Unit | Qty/Carton | Unit Price | Carton Info (mm/kg) |
| 60 tbs/box | 24 boxes | JPY3,400 | 370*250*130/1.6 |
Squalene Oil for supplement

80ml

1 L
Squalene improves blood circulation, provides oxygen to the tissues, revitalize cells, and works as an anti-oxidant. The natural components extracted from the species of Centrophorus granulosus, a deep sea shark of Okinawa's seas, using our technology is exclusively used as raw materials for our products, The liver oil of the deep sea shark contains squalene, unsaturated fatty acids (including DHA, EPA, viatmin A and Vitamin E), squalen and arcoxygycerol. The natural arcoxyglycerol is a special marine fatty acid which supports the production of white blood cells especially that of lymphocytes. Thus, it plays an important role in maintaining a proper function of our immune system


| | | | |
| --- | --- | --- | --- |
| Unit | Qty/Carton | Unit Price | Carton Info (mm/kg) |
| 80ml/bottle | 12 bottles | JPY4,920 | 160x301x170/1.354 |
| 1L/bottle | 15 bottles | JPY25.500 | 505x315x225/14.6 |
| 15kg/ can | 1 steel can | JPY178,500 | 240*240*350/16.5 |