Nakijinshuzo Distillery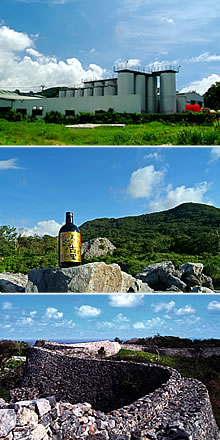 Nakijinshuzo Distillery is located at the foot of the scenic ruins of Nakijin Castle. The awamori, deeply rooted in this historic area, has fostered kusu with a sophisticated taste.

The islands of Okinawa (the Ryukyus) were divided into three kingdoms until the 14th century. Nakijin Castle belonged to one of the three kings. The castle ruins were designated as a World Heritage Site by UNESCO in December, 2000. The Nakijin distillery is at the foot of the castle ruins.
Located at a scenic site in the northern part of the main island of Okinawa, the distillery is engaged in the production of distilled liquor by fermenting pure rice without any additives. This process is followed by one of three processes for maturing the liquor: in earthenware pots-the traditional technique; in stainless steel tanks; or in oak barrels. In other words, the Nakijin Distillery pays due respect to the traditional distilling process while using modern methods to meet the diversifying needs of the consumers and the times.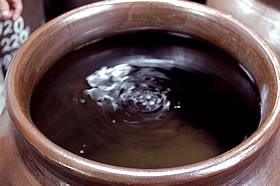 Production of mild awamori, with an alcohol content of 20%, was the brainchild of Yoshio Ohshiro, the third owner of the distillery, who took up the post in 1974. The distillery has since come out with a variety of unique products, including a bottle which, when peeped into, displays the figure of a beautiful Okinawan woman dressed in traditional costume.
The current owner proudly presents his awamori liquor made from the natural water that trickles from the rocks at the foot of Mt. Otowa. It is the result of the craftsmanship of master distillers nurtured by longstanding traditions and long years of practice. The Nakijin awamori is known for its simple, yet rich and well-balanced taste. The distillery's various liquors all bear romantic and dreamy names, inspired by the many historic sites that remain in the local area. The 1.4 million liters of awamori contained in 20 giant storage tanks hold is cradled in timelessness, dreaming of the next 100 years.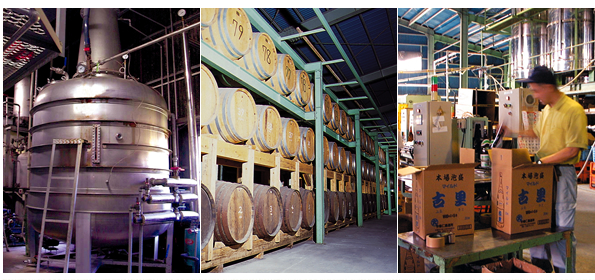 Company name: Nakijinshuzo Distillery
Founded: 1948
Address: 500 Nakasone, Nakijin Village, Kunigami-gun
TEL: 0980-56-2611
FAX: 0980-56-4598
Please contact Mr. Terukina of Okinawa Agent for English inquries at trd@okiagent.jp

We welcome your visit so as to pick you up at Naha Air Port for our showing you around in the factory to understand our local unique Awamori liquors and how they are served at the local pub restaurants.
Click this Cartoon Story for easy understanding what Awamori is.


Nakijinshuzo Catalogue
Jukusei Kusu (aged) 720ml

Awamori

which has been aged for three years and more is called kusu in the local dialect.

@

It is usually stored in unglazed pottery bottle for aging and maturing. It is from the aging that its unique mellow smooth taste and aroma are achieved.

This product is the Awamori whose characteristics of the quality of Kusu has been searched after and made up with time and efforts.


| | | | |
| --- | --- | --- | --- |
| Unit | qty/carton | Unit Price | cn (M3 mm/kg.) |
| 43% 720ml/bottle | 12 | JPY1,741 | 270x370x300/16.5 |
| 25% 720ml/bottle | 12 | JPY1,080 | 270x370x300/16.5 |
Mugen no Utage ( Feast of Fantacy) 30% 720ml

gMugen no Utageh was produced by the distillery masters who keep their traditional ways of the Awamori production. It is aged blended Awamori from 3 years to 7 years by the aging method called gShitsugih. In 2006, it won the silver prize of Monde Selection.

| | | | |
| --- | --- | --- | --- |
| Unit | qty/carton | Unit Price | cn (M3 mm/kg.) |
| 30% 720ml/bottle | 12 | JPY1,739 | 285x370x245/17 |
Nakijin Castle 43% 10 and 3 yrs 1800ml/ 20L

g

Nakijin

Castle

h is produced from unprocessed Awamori Liquor aged in the unglazed pot.

Matured Awamori produced from the malt rice fermented with black koji mold has mellow flavor and smooth taste with richness and sweetness.

gNakijin Castle 10 years aged Awamorih is the masterpiece produced by traditional production method and techniques handed down since starting its business. The quality searched for the sophisticated mellow flavor and smooth and rich taste will attract the drinkers with no questions.

Unit
qty/carton
Unit Price
cn (M3 mm/kg.)
1800ml/10 yrs
6
JPY9,170

225x335x430/17.3

1800ml/ 3yrs
JPY2,150
20L/10 yrs
1
JPY79,925
300*285*295/20.8
Baron bag/cn
20L/3 yrs
JPY23,920
Hyakunen no Yume (Dreams of Century) 25% 720ml

Matured Awamori liquor 25% (3 years)

gHyakunen no Yumeh has been brought up with the beautiful surroundings and clean ground water at Nakijin in Okinawa.

Itfs matured for three years, that made it miller but richer in taste. Feel it romance and history with its taste, that dates you back to the period of Ryukyu Dynasty.

| | | | |
| --- | --- | --- | --- |
| Unit | qty/cn | Unit Price | cn (M3 mm/kg.) |
| higher bottle 720ml | 12 | JPY720 | 360x400x220/13 |
| lower bottle 720ml | 6 | JPY920 | 295x380x290/14.3 |
Marudai 30%



gMarudai 30%h is the one which has be loved by the native villagers since starting the business. The traditional production method has been taken over decades after decades, whose characteristics specialize in the flavor peculiar to Awamori and refreshing roundness of the cereals.

| | | | |
| --- | --- | --- | --- |
| Unit | qty/carton | Unit Price | cn (M3 mm/kg.) |
| 720ml | 12 | JPY718 | 305x410x210/15 |
| 1800ml | 6 | JPY1,405 | 230x335x420/17 |
Uruwashiki Furusato (Sweet Home town) 20% 30%

The brand of gUruwashiki Furusatoh is made up with traditional Awamori alcohol content of 30%, wihich is requested by lot of clients, leaving the mildness and roundness in taste of gUruwasiki Furusato 20%h. You can enjoy the traditional and original flavor peculiar to Awamori liquor.

Unit
qty/carton
Unit Price
cn (M3 mm/kg.)
20%
720ml
12
JPY606

290x380x295/15

1800ml
6
JPY1,114

230x335x420/17
Ocho no Kuni (Ryukyu Dynasty) 30%/ 25%/ 720ml/ 1800ml

Excellent products with the mellow flavor and mild taste peculiar to the long-aged Awamori liquor!!

The deep mellow flavor and the traditional production method handed down from the Ryukyu Dinasty, with which Awamori is the characteristics of Nakijinshuzo distillery Co., Ltd.

Unit
qty/carton
Unit Price
cn (M3 mm/kg.)
25%
720ml
12
JPY941

290x375x300/15

1800ml
6
JPY1,586

230x335x290/17

30%
720ml
12
JPY

290x375x300/15
Ryukyu no Tabi (Tour in Ryukyu) 720ml/ 25%/ 43%

This product is a long-aged Awamori liquor matured in the unglazed pot, whose peculiar flavor and taste will be enough to enjoy.

Unit
qty/carton
Unit Price
cn (M3 mm/kg.)
25%
720ml
12
JPY1,418

290x375x300/15

43%
720ml
JP3,184

290x375x300/15
Sennen no Hibiki (foot steps of Millennium) 43%/ 25%/ 720ml

Awamori becomes matured Awamori liquor called Kusu by storing for long period of time.

The long-aged unprocessed Awamori, to which nothing added, and from which nothing removed, is limited Awamori Liquor in volume with its unique mellow smooth taste and aroma. Recommended to drink it on the rocks and/or diluted with water.

You feel it like Brandy with the sweetness and mellowness due to its maturity in the oak barrales.

Unit
qty/carton
Unit Price
cn (M3 mm/kg.)
43%
720ml
12
JPY3,023

270x350x240/16

25%
JPY2,007
Shizuku (Dew Drops)

20%/ 720ml/ 1800ml

It is Awamori liquor matured in oak barrels, that gives off deep flavor and richer in taste. Naturally amber-colored Awamori liquor will be born with higher quality.

It is so easy and mild enough for ladies to try Awamori at Alcohol content 20%.

Unit
qty/carton
Unit Price
cn (M3 mm/kg.)
20%
720ml
12
JP

305x405x210/15

1800ml
6
JPY1,594
Tenshi no Yume (Drea)ms of Angel) 25%/ 720ml (3 yrs

Matured Awamori liquor aged in the oak barrels brings about the characteristics of its peculiar color, flavor and taste. Please try its melting feeling in the mouth alone with its deep flavor.

You can enjoy sipping it little by little with your favorite cuisine as you drink whiskey.

Aged Awamori Liquor in the barrels added its original and traditional Awamori matured in the unglazed pots with the peculiar color and aroma




| | | | |
| --- | --- | --- | --- |
| Unit | qty/carton | Unit Price | cn (M3 mm/kg.) |
| 720ml | 12 | JPY1,170 | 303x388x245/16.3 |
Zeni Daru 25%/ 720ml/ 1800ml

Unprocessed Awamori liquor aged in the oak barrels has become amber-colored Awamori with milder flavor and richer taste. Please try the excellent flavor and taste of the sophisticated matured Awamori Liquor.

Unit
qty/carton
Unit Price
cn (M3 mm/kg.)
25%
720ml
12
JPY

300x395x200/14

290x390x290/14.5

1800ml
6
JPY1,780

230x335x420/17
Liqueur Catalogue

Cafuere 12%/ 500ml

Awamori can be enjoyed on variety of ways such as on the rocks and cock tails as well. Cafuere is liqueur based on Awamori.

gCafuereh is the coinage combined with Cafu which means gGood luck and Charmh in local dialect and Liqueur.

œ Cafuere Shiquasar

Ingredients: Awamori/ fructose glucose/ Shiquasar juice/citric acid/ vitamin C/

* Shiquasar is a tiny citrus lemon whose scientific term is gCitrus Depressa Hayatah ,and is peculiar to Okinawa. It is used like a lemon for juice and seasoning to the various grilled meat and fish.

œ@Cafuere Lychee

Ingredients: Awamori/ fructose glucose/ Lychee juice/ citric acid/ Vitamin C/

Youfll feel a little bit ghappyh with the refreshing flavor and sharp taste but with the roundness from the tropical region.


Unit
qty/carton
Unit Price
cn (M3 mm/kg.)

Cafuere Lychee

12
JPY829

300x228x245/6.2

5

Cafuere Shiquasa

12
JPY829

300x228x245/6.25
Plum Liqueur@gUmemi Zukih 12%/ 300ml/ 720ml/ 1800ml

Plum liqueur (Ume-shu) used to be produced on Awamori liquor base at each family in Okinawa as home remedies for recovering daily fatigue and creating vigorous energy for tomorrow. Japanese Ume contains more citric acid, calcium, iron and phosphorus than any other fruit and twice as much protein. It is also rich in other organic acids and minerals

This product is different from the conventional Plum liqueur, which was mixed up with Aged Awamori liquor. And by adding Okinawa Brown sugar, its taste and flavor has been deepened milder and richer.

It is recommended even for those who can not drink alcohol due to its mildness in the sweetness.

Please try it in various ways of drinking on the rocks, strait, diluted with soda pops and other fruit juice.

Ingredients: Matured Awamori liquor/ brown sugar/ Kishu Plum juice/

| | | | |
| --- | --- | --- | --- |
| Unit | qty/carton | Unit Price | cn (M3 mm/kg.) |
| 300ml | 24 | JPY519 | 230x305x305/12 |
| 720ml | 12 | JPY1,058 | 265x350x295/16 |
| 1800ml | 6 | JPY2,254 | 230x335x420/17 |